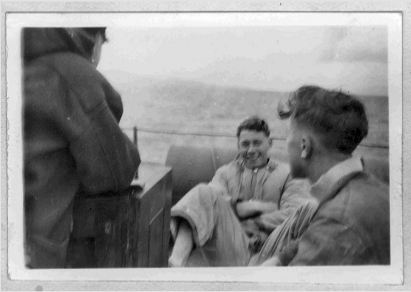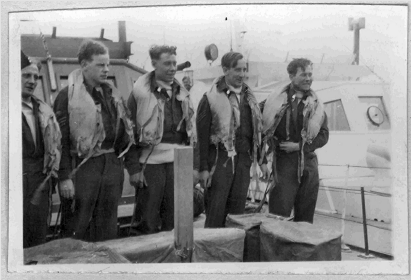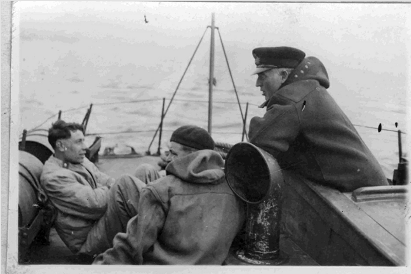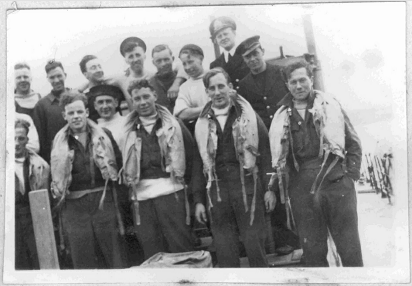 Taken from the notes of Lofty Tomlinson

The plane was on an instructional flight from Inverness to the Isle of Man when the starboard engines failed. Slowly the machine lost height until over Loch Fyne it was obvious she was not airworthy much longer. The boggy marshy mountainsides were unsuitable for a forced landing so the pilot ordered the S.O.S. to be sent out stating they were coming down in Loch Fyne. All five crew were Sergeants with the pilot a cheeky young cockney of the Max Miller type.
Well" he said as he sipped his rum again "My borough has gone and raised fifty thousand quid for a bomber and now I have been and ditched the bastard".

ML 115 took part in the rescue of the crew of a Whitley Bomber which ditched near the Isle Of Arran on 05 May 1943.

The photos below were a mystery until I received note from Lofty's Diary, I then tracked down Paul Warrener and filled in another bit of the puzzle.

Unfortunately I cannot put a name to a face but I will keep trying.

My thanks to Paul Warrener and the No19 OTU RAF web site for the following information about the crew.


The following is extracted from Bill Chorleys "Bomber Command Losses, Vol 7, OTU's"I quote: 31 May, 19 OTU 'A' Flight, Whitley Mk V, Z9216. T/O from Kinloss for night exercise but starboard engine failed, was obliged to ditch 0125 in Loch Fyne, N of the island of Arran. It is suspected the crew alighted towards the west side of the loch, as they were brought to Campbeltown on Kintyre, where they were looked after by the Navy at HMS Seahawk.

Bill only lists the aircraft captain, Sgt R A Knight, and lists his service with Bomber Command. Regrettably he was lost in a Raid 5-6th Sept 43.


After some research I can add the following.


Sgt Reginald Arthur Knight was 23 years old. Service number 658117.

Sgt Knight was posted to 9 Sqn flying Lancaster Bombers from Bardney Airfield.

On 5 September 1943 Sgt Knight took off in Lancaster R5744 at 20:27 on route to bomb Mannheim.
9 Sqn log records "Aircraft missing. No signals received"

The crew of R5744.
Sgt R. Knight
Sgt T. Bradford
Sgt G. Munro (Canadian)
Sgt D.G. Connor
Sgt C.A. Davis (Canadian)
Sgt J.W. Noble
Sgt R.G. Nelson

The crew now rest in Durnbach War Cemetery Germany.